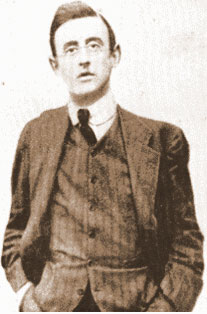 The Splender of God

The drunken stars stagger across the sky,
The moon wavers and sways like a wind-blown bud,
Beneath my feet the earth like drifting scud
Lapses and slides, wallows and shoots on high;
Immovable things start suddenly flying by,
The city shakes and quavers, a city of mud
And ooze—a brawling cataract is my blood
Of molten metal and fire—like God am I.

When God crushes his passion-fruit for our thirst
And the universe totters—I have burst the grape
Of the world, and let its powerful blood escape
Untasted—crying whether my vision durst
See God's high glory in a girl's soft shape—
God! Is my worship blessed or accurst?
Joseph Mary Plunkett .was born in Dublin and educated at Catholic University School, Belvedere College and Stonyhurst College. For a while he was editor of the Irish Review. He was a close friend of Thomas MacDonagh and Padraic Pearse, noted Irish poets. Along with MacDonagh and Edward Martyn, he co-founded the Irish Theatre.

During the 1916 Rising he was one of the signers of the Proclamation of the Irish Republic. He was imprisoned by the English army in the Richmond Barracks. Shortly before his execution in the courtyard of Kilmainham jail, on the morning of May 4th, he married his fiance, Grace Gifford, in the jail's chapel. He died at the age of 28. One of the best known romantic tragedies, his marriage to Grace has become both song and fable.

His friend, Thomas MacDonagh was executed the day before. The interrelationships between the poets of Dublin emerge many times. Francis Ledwidge, another of the poets of the day, wrote a Lament to thomas MacDonagh. Joseph's father and brother John, who were also involved in the 1916 uprising, served ten years penal servitude. Joseph's wife, Grace, was also later imprisoned in the Kilmainham jail.

Plunkett was deeply influenced by his study of the mystics, including Saint John of the Cross, Saint Theresa of Avila and Saint Francis de Sales.
His poetry was published in two volumes: "The Circle and the Sword", in 1911 and the "Occulta", published posthumously. His sister, Geraldine Plunkett acted as editor and contributed a foreword.